For Immediate Release
Texan Woman Spends Holiday Vacation Volunteering with Orphan Girls in Ethiopia

College Station, Texas  (AgPR) Feb. 26, 2016  —The American Agri-Women  (AAW)  – Carmen Byce, a Program Coordinator at Texas A&M AgriLife's Borlaug Institute for International Agriculture and a co-owner of a small farm in Franklin, Texas just returned from a two week trip to Ethiopia to share her technical skills and expertise with the staff and orphans of a local nunnery. Byce, a graduate of the University of Georgia and Iowa State University and current PhD student at Texas A&M University, used her professional experience to train Ethiopian nuns and orphans as part of Catholic Relief Services' Farmer-to-Farmer (FTF) program that promotes economic growth, food security and agricultural development in East Africa. This is her first time travelling to Africa and her second volunteer assignment through the USAID Farmer to Farmer Program.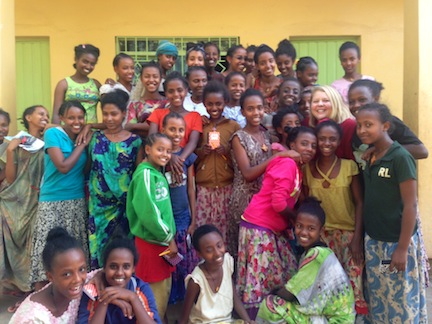 "Volunteering with Farmer-to-Farmer is, without exaggeration, a life changing experience," said Byce.  "When I first learned of this opportunity to volunteer in Ethiopia, through my membership in American Agri-Women, I knew immediately I wanted to volunteer to support these efforts, and more specifically to support leadership development among girls and young adults that have faced such struggles in their lives. Not to my surprise, I gained a wealth of knowledge and irreplaceable experiences from my kind hosts as well as the girls I worked with."
In Dire Dawa, Ethiopia, Byce worked with the nunnery management and over forty orphan girls for improved life and leadership skills development through engaging training that emphasized group discussion, games, activities, and peer-led demonstrations. The Melka Abune Aregawi Gedam Nunnery runs various community and welfare services including managing 40 acres of small scale agricultural production of citrus and vegetables with sales supporting school programming and housing for over 100 orphans. The life skills developed through this training will complement past volunteer training in technical areas such as orchard management and climate-smart agriculture to enable the young leaders to engage in profitable agribusiness activities and serve as role models to their peers.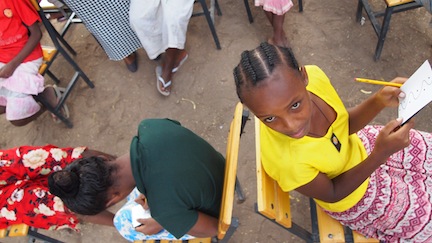 Funded by the U.S. Agency for International Development (USAID), the five-year program matches the technical assistance of U.S. farmers, agribusinesses, cooperatives, and universities to help farmers in developing countries improve agricultural productivity, access new markets, and increase their incomes.
Byce says: "Now that I am home, I want to share this experience with everyone and encourage other agricultural professionals to volunteer as well!"
If you are interested in volunteering, please contact aaw@americanagriwomen.org or apply at www.farmertofarmer.crs.org.
About CRS' Farmer to Farmer program:
Byce's volunteer assignment is one of nearly 500 assignments that focus on agriculture, food security and nutrition in Ethiopia, Tanzania, Kenya and Uganda. This is the first time CRS has been involved in the 28-year-old Farmer-to-Farmer Program funded by the U.S. government. CRS is partnering with five U.S. institutions to tap into the rich diversity of the U.S. agriculture community: the National Catholic Rural Life Conference, Foods Resource Bank, National Association of Agricultural Educators, American Agri-Women, and the University of Illinois' College of Agricultural, Consumer and Environmental Sciences. The U.S. volunteers will travel to East Africa for anywhere from one to six weeks, their expenses covered by USAID.
"One thing we are certain of is that this program will be beneficial not just to the farmers in East Africa, but also to the volunteers from America," said Bruce White, CRS' director for the program. "It's going to make the world a little bit smaller for everyone involved."
Catholic Relief Services is the official international humanitarian agency of the Catholic community in the United States. The agency alleviates suffering and provides assistance to people in need in 91 countries, without regard to race, religion or nationality. For more information, please visit www.crs.org or www.crsespanol.org and follow CRS on Twitter @CatholicRelief and @CRS_expertise; and youtube.com/user/CatholicRelief.
The U.S. Agency for International Development administers the U.S. foreign assistance program providing economic and humanitarian assistance in more than 80 countries worldwide.  For more information, please visit http://www.usaid.gov/what-we-do/agriculture-and-food-security/supporting-agricultural-capacity-development/john-ogonowski.
 
About American Agri-Women
American Agri-Women (AAW) promotes the welfare of our national security through a safe and reliable food, fiber and mineral supply. Since 1974, AAW members have worked together to educate consumers; advocate for agriculture; and offer networking and professional development opportunities. For more information, or to join, visit AmericanAgriWomen.org. Find AAW on social media at: facebook.com/AgriWomen and twitter.com/Women4Ag.

                                                                        # # #

Media Contact: 
Jane Marshall
VP Communications
American Agri-Women
937.336.1456 - mobile - voice or text
communications@americanagriwomen.org
AmericanAgriWomen.org