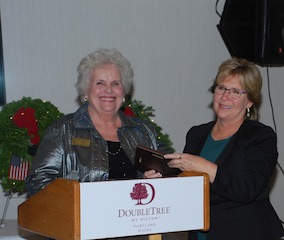 Karolyn Zurn, right, accepting the LEAVEN Award from LEAVEN Chair Merlynn Verstuyft, left
Portland, Maine  (AgPR) March 7, 2016 — Karolyn Zurn of Callaway, Minn. and Minnesota Agri-Women was awarded the LEAVEN Award at the American Agri-Women  (AAW) National Convention recently. The LEAVEN Award was first awarded in 1977.  That selection committee came up with the acronym LEAVEN (Loyalty, Enthusiasm, Anticipatory, Valiant, Effectiveness and Nurturing) to evaluate the candidates.  "Leaven" (yeast) is a small element that can interact and influence everything around it.  It permeates and raises the elements it's mixed with.  Leaven multiplies its effectiveness for good.  AAW presents the LEAVEN Award to those persons who, to an outstanding degree, have acted as leaven, a truly feminine concept since "lady" means giver of bread.  Winners are nominated by an AAW Affiliate.
Karolyn currently serves as the AAW Chair of U.S. Government Affairs and Vital Issues and the Chair of the Minnesota Agri-Women.  She is also part of the Northern Crops Institute, Minnesota Ag In the Classroom, Common Ground and the Minnesota Soybean Research and Promotion Council.  Karolyn is effective at staying on top of issues and making sure that word gets out to AAW members on issues of critical importance.  Karolyn's nominator explained, "Karolyn has always encouraged and mentored younger members.  She has brought younger members to state and national events and has soughtout their ideas and involvement."  Karolyn is doing just this in helping the new North Dakota Agri-Women affiliate.
Karolyn and her husband Bill farm with their two sons in North Western Minnesota.  They grow soybeans, corn, sugar beets, alfalfa and wheat. Karolyn and Bill have five children and 11 grandchildren. All of their children have stayed in agriculture, either in production or in businesses that support agriculture. Karolyn said, "Both Bill and I serve on many agriculture boards for the simple reason of preserving our farm for generations to come.  Our advocacy, hopefully, will allow us to farm as we need to for our benefit and the benefit of neighbors here and in other countries."
About being awarded the LEAVEN award Karolyn said, "I am humbled and honored to have been awarded the prestigious LEAVEN Award. I am very passionate about agriculture and the future of our families as they try to farm in a very unsure environment. I will continue to advocate and work for our common goals of feeding future generations of Americans and the world. Thank You to my American Agri-Women friends."