For Immediate Release

Lynn Woolf Awarded American Agri-Women LEAVEN Award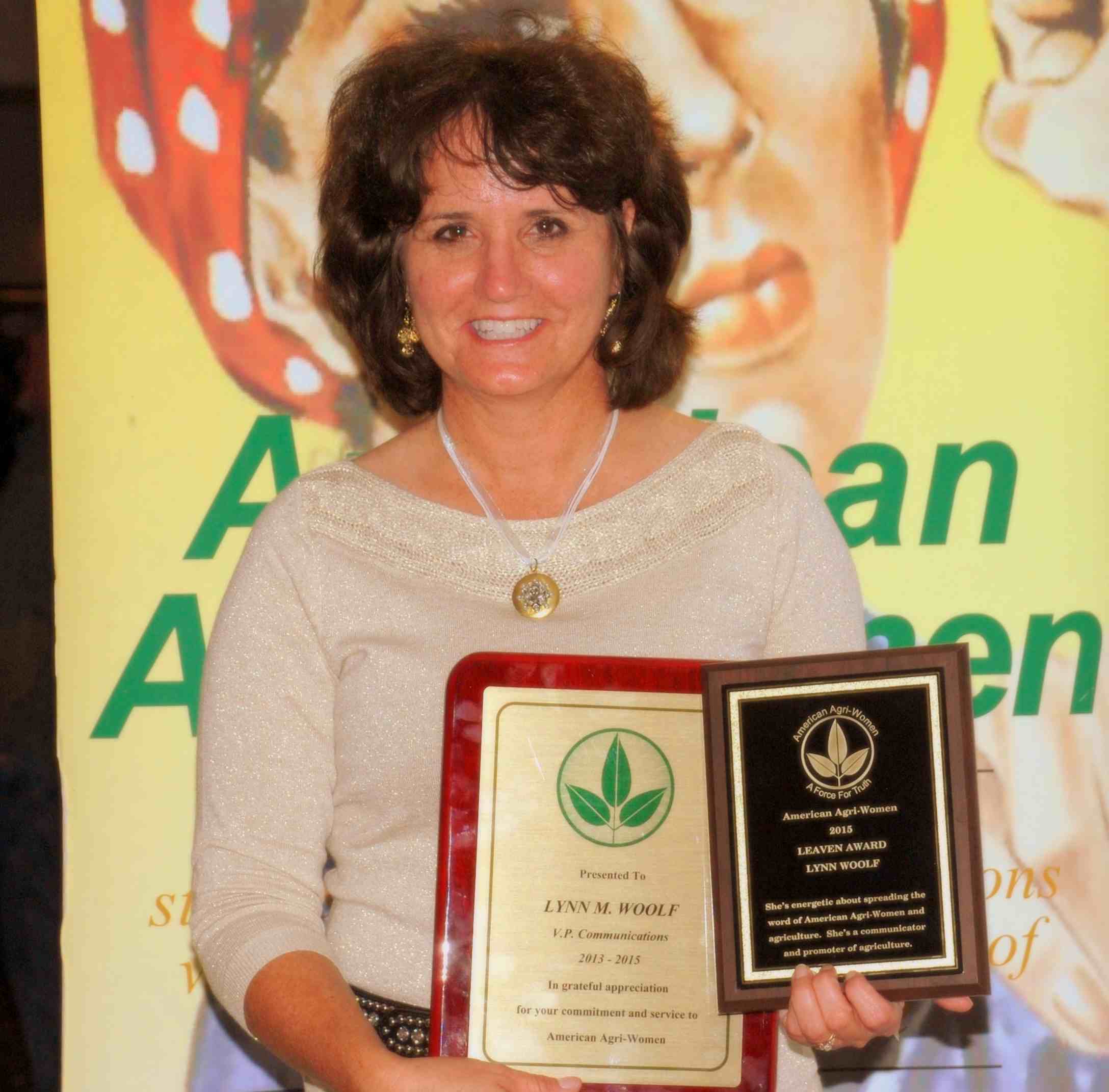 Lynn Woolf
Portland, Maine  (AgPR) Feb. 29 2016 — Lynn Woolf of Milton, Kan. and Kansas Agri-Women was awarded the LEAVEN Award at the The American Agri-Women  (AAW)  National Convention recently. The LEAVEN Award was first awarded in 1977.  That selection committee came up with the acronym LEAVEN (Loyalty, Enthusiasm, Anticipatory, Valiant, Effectiveness and Nurturing) to evaluate the candidates.  "Leaven" (yeast) is a small element that can interact and influence everything around it.  It permeates and raises the elements it's mixed with.  Leaven multiplies its effectiveness for good.  AAW presents the LEAVEN Award to those persons who, to an outstanding degree, have acted as leaven, a truly feminine concept since "lady" means giver of bread.  Winners are nominated by an AAW Affiliate.

Lynn just completed her two year term as AAW Vice-President of Communications.  Her nominator explained that Lynn's work to get the word out to the members has raised their level of understanding of the organization and that she has ensured that AAW has been seen and heard. Lynn was summed up this way. "Lynn is a visionary, She thinks of the needs of the AAW organization and the needs of others within the organization.  As VP of communications for AAW she has had a big hand in reworking and developing the brand for AAW.  She has also been involved in the over all planning for the organization.  Lynn has also been thinking of the future by recruiting and encouraging other members to become involved in our organization through blogging, Facebooking and writing for the Voice."

Lynn is managing editor of Rural Lifestyle Dealer magazine and is public relations chair for Kansas Agri-Women. She and her husband, Vaughn, and children, Elizabeth and Daniel, raise wheat and soybeans on their farm in Milton, Kan.

"It means so much to me to receive the LEAVEN award. The women of AAW have done so much to inspire me and make me a better advocate. I value their friendships and being part of such an amazing organization," says Lynn Woolf.

About American Agri-Women
American Agri-Women (AAW) promotes the welfare of our national security through a safe and reliable food, fiber and mineral supply. Since 1974, AAW members have worked together to educate consumers; advocate for agriculture; and offer networking and professional development opportunities. For more information, or to join, visit AmericanAgriWomen.org. Find AAW on social media at: facebook.com/AgriWomen and twitter.com/Women4Ag.

                                                                        # # #

Media Contact: 
Jane Marshall
VP Communications
American Agri-Women
937.336.1456 - mobile - voice or text
communications@americanagriwomen.org
AmericanAgriWomen.org


---
Editor's Note: This news brief is being sent to you via AgPR, 
www.AgPR.com
, the news release distribution service for agriculture. AgPR is an "Opt-In" service provided at no charge to journalists who report on agricultural topics. We encourage you to forward this info to other journalists you think will find it of interest. If you've received this from a peer and would like to receive future agricultural e-news briefs, please contact 
Warren E. Clark
 via e-mail at warren.e.clark@gmail.com or by phone at +1.847.836.5100. AgPR is a product of CCI Marketing, www.ccimarketing.com, a division of Clark Consulting International, Inc.
---
Copyright ©2022 Clark Consulting International, Inc. – CCI Marketing – AgNewsCenter.com
All Rights Reserved
For further information on AgNewsCenter contact: Warren E. Clark 1-847-836-5100