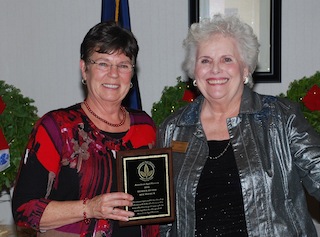 Sue McCrum, left, accepting the LEAVEN Award from LEAVEN Chair Merlynn Verstuyft, right.
Portland, Maine (AgPR) Feb. 15, 2016 — Sue McCrum of Mars Hill, Maine and Maine Agri-Women was awarded the LEAVEN Award at the American Agri-Women (AAW) national Convention recently. The LEAVEN Award was first awarded in 1977.  That selection committee came up with the acronym LEAVEN (Loyalty, Enthusiasm, Anticipatory, Valiant, Effectiveness and Nurturing) to evaluate the candidates.  "Leaven" (yeast) is a small element that can interact and influence everything around it.  It permeates and raises the elements it's mixed with.  Leaven multiplies its effectiveness for good.  AAW presents the LEAVEN Award to those persons who, to an outstanding degree, have acted as leaven, a truly feminine concept since "lady" means giver of bread.  Winners are nominated by an AAW Affiliate.
Sue has been the president of AAW for the last two years. She was the driving force behind this summer's Drive Across America.  Sue is a great communicator and "agvocate."  She has served on the AAW Foundation Board. Under Sue's leadership AAW created the new Executive Administrative position to help AAW become more effective.  Sue has been a Hospice Volunteer.  She is described as a rock for her family, friends and community.  She has helped to grow her family's 4000 acre potato farm and their potato manufacturing business.  
Her application summed up Sue in the following manner, "What woman would dedicate five months out of her life as a volunteer to promote AAW, women and family farms? Sue McCrum of course. Her enthusiasm for AAW and Agriculture is obvious when we look at her dedication to the Drive, but we all know what it extends way beyond this. She has been an enthusiastic supporter of agriculture, AAW, people and life for as long as we have all known her."
"Humbling," Sue says about the LEAVEN. She went on to say, "This award was given to me by my peers in American Agri-Women. I am grateful for those who supported me over the years of my involvement in AAW. Somewhere it has been said that we are only as good as the company we keep. Fortunately, the company I keep within AAW has been awesome!" 
About American Agri-Women
American Agri-Women (AAW) promotes the welfare of our national security through a safe and reliable food, fiber and mineral supply. Since 1974, AAW members have worked together to educate consumers; advocate for agriculture; and offer networking and professional development opportunities. For more information, or to join, visit AmericanAgriWomen.org. Find AAW on social media at: facebook.com/AgriWomen and twitter.com/Women4Ag.

                                                                        # # #

Media Contact: 
Jane Marshall
VP Communications
American Agri-Women
937.336.1456 - mobile - voice or text
communications@americanagriwomen.org
AmericanAgriWomen.org