Agronomic Innovations, LLC Buys AgRobotics
Launches Farmer-Centered AutoProbe Precision Soil Sampling Services and Licensing of AutoProbe to Farmers and Agronomic Service Providers


St. Louis, MO, (AgPR) – Agronomic Innovations, LLC, Brighton, IL, announces the purchase of AgRobotics and their patented AutoProbe precision soil sampler. The two privately held companies did not disclose the sale price. All AgRobotics employees retain employment with the new entity.

Agronomic Innovations, LLC is owned by Allen Lash and Harold Birch who have a combined seventy years of experience forming and growing companies to serve top producer business needs. AgRobotics co-founders Jim and Jeff Burton, Little Rock, AR, have been searching for the right strategic partner to expand use of their AutoProbe automated precision soil sampler.

"Everything begins with the soil," says Lash. "Pinpoint sample integrity is what the AutoProbe offers. 'Big Data' is only as good as the initial measurement integrity. Spot sampling isn't precision. You only understand what's happening in that spot where the sample's pulled. It's logical that more samples are better. It's also statistically more accurate." The AutoProbe pulls consistent 6 inch cores as intensively as every 8.5 feet in either grid or zone management systems.

Birch says, "We're excited to be able to provide the AutoProbe automated precision soil sampler to top farmers and agronomy organizations who wish to use it on their own acreage and that of interested clients. We are establishing farmer-owned AutoProbe service centers; the initial locations will be announced shortly. AutoProbe licensing to ag retailers and crop consultants will continue.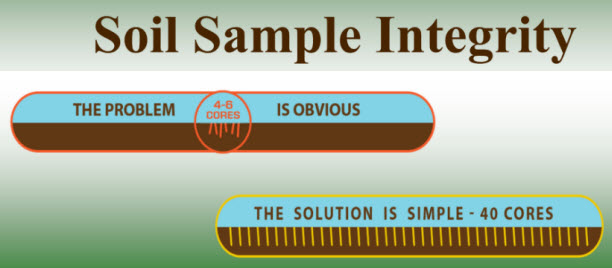 "Soil sample data accuracy and integrity are key to making correct management decisions," Birch notes. "We believe the AutoProbe automated soil sampler is the solution to this challenge. Top farmers see the benefits quickly. Our intent is to harness farmer desire to have the most accurate and complete soil data to help drive crop performance from the ground up through this new soil sample data standard. We encourage farmers to ask the company currently pulling their soil samples to begin using the AutoProbe to increase the number of cores pulled and improve their sample results."

"Farmers get it," says AgRobotics founder and AutoProbe inventor Jim Burton. A former Arkansas row crop and commercial vegetable farmer himself, Burton knows first-hand - from many backbreaking hours pulling soil samples - the value of automating the process. "Eliminating the manual labor and automating the sample method to provide many more cores to make up a sample increases the data integrity immensely. The goal is to eliminate 'Garbage in. Garbage out!'"

"Their shared vision for a farmer-driven, ground-up AutoProbe licensing and service model is what convinced us to join Agronomic Innovations, LLC," says AgRobotics President and co-founder Jeff Burton. "Their growing network of farmer-owned agronomic service businesses based on the superior accuracy of AutoProbe soil samples will drive future adoption. The pinpoint accuracy from AutoProbe samples provides the integrity required for optimizing precision seeding and nutrient management decisions.

"We recognize top producers' core values are to follow best management practices while maintaining their commitment to lower cost and increase profitability," Burton notes. "We are now aligned with Agronomic Innovations, LLC, a group whose mission and vision center on grower success."

Background on AgRobotics

AgRobotics, LLC, based in Little Rock, Arkansas, developed the patented automated soil sampling machine called the AutoProbe. Company founder Jim Burton, his son and company President Jeff Burton, and their team have proven the superiority of the AutoProbe soil sampling technology on more than 500,000 acres nationwide. Major ag retail organizations, consultants and top farmers have licensed the AutoProbe to provide pinpoint precision soil samples. For more information visit www.AgRobotics.com.

Background on Agronomic Innovations, LLC

Brighton, Illinois based Agronomic Innovations, LLC is owned by Allen Lash and Harold Birch who are owners of AgriSolutions, Inc. and co-founders of FamilyFarms Group. Agronomic Innovations, LLC was formed to improve total data integrity, enabling top farmers to make optimum agronomic management decisions. The purchase of AgRobotics and the AutoProbe patents adds to the solid foundation being established by Agronomic Innovations, LLC for achieving a more accurate and reliable understanding of the soil.