FOR IMMEDIATE RELEASE

150,000 Growers and 16 Million Acres Impacted by Midwest Flooding

WESTMONT, Ill. (AgPR) April 24, 2019 — The Midwest flooding crisis has already damaged grain and potentially many grain bin structures and is expected to present problems into July, impacting the current planting season.

A geospatial intersection of Farm Market iD's land data with a flood map from March 16-24, 2019, showed that Iowa, Nebraska, Missouri and Kansas are experiencing significant impacts from the flooding.

     •   Nearly 150,000 growers in the 4-state region are affected by the flooding


     •   Nearly 90,000 grain bins are located in the flooded areas valued at $4 billion just for the structures alone


     •   1.24 billion bushels of storage capacity in the affected area – equating to 31 percent of the on-farm grain storage valued at an estimated $7.5 billion


     •   More than 16 million corn, soybean or wheat acres are located in the affected region
Contaminated grain stored on-farm

With as much as $7.5 billion worth of grain stored in the flooded region, the economic impact on local growers is substantial and comes on top of several years of low commodity prices that have already financially stressed farmers.

"The amount and cost of lost grain and the construction costs to rebuild will impact farmers for years, and some may have a hard time recovering," said Steve Rao, CEO at Farm Market iD. "That said, the majority of on-farm grain storage has not been affected."

Specific statistics about on-farm grain storage from Farm Market iD's data analysis:

Data by state:
The percent of affected on-farm grain storage: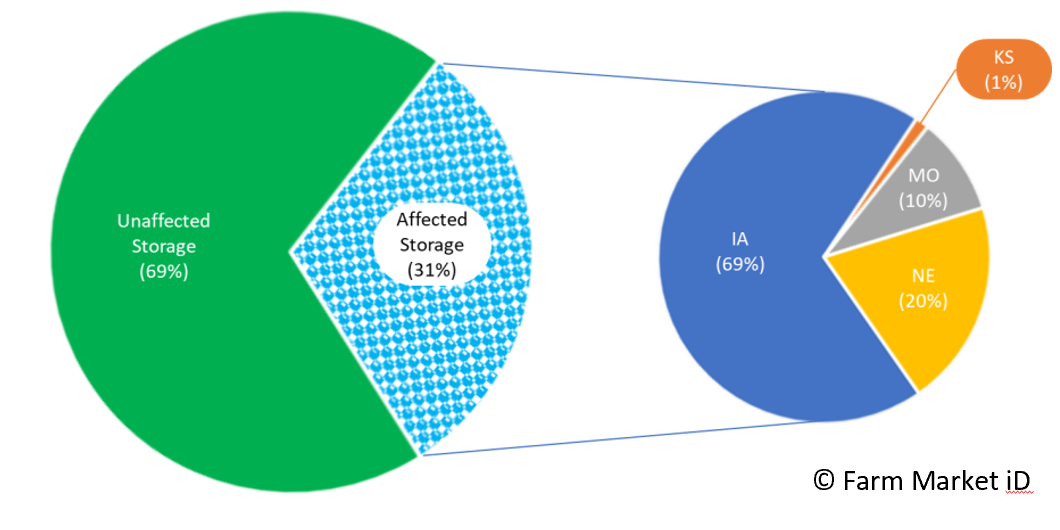 Potential for delayed planting and impact to crop protection


The flooding damage may also mean delayed planting for many growers in the affected states. Additionally, the wetter than normal conditions at-planting and after planting will significantly impact growers' crop protection plans.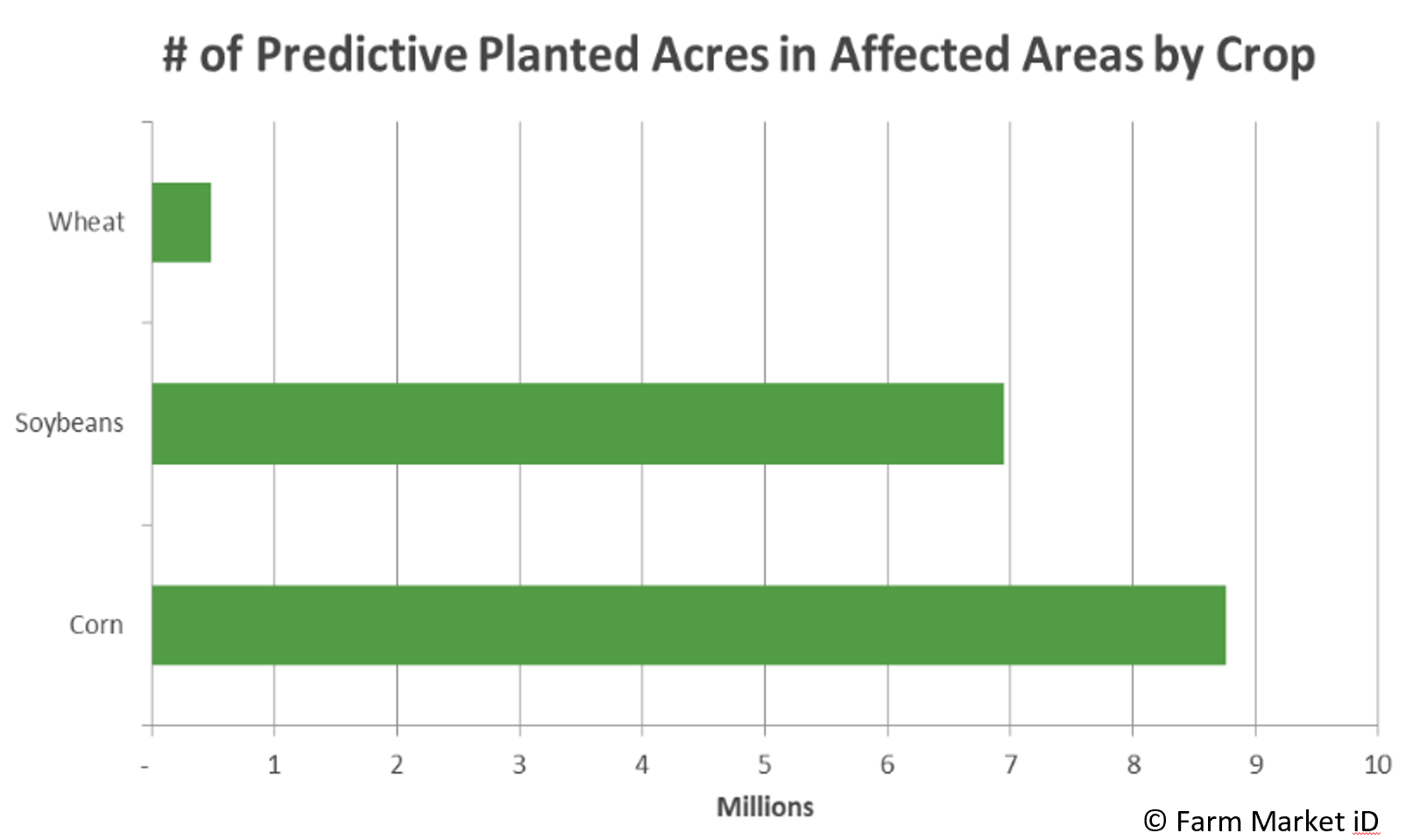 F
arm Market iD's data leverages eight-year field-level crop rotation, crop yields, commodity prices and weather data to project field-level planting decisions. By employing multivariate regression analysis and statistical models to analyze and project planting decisions for corn, soybean, wheat and cotton, Farm Market iD can predict planted acres in 20 states covering more than 200 million acres.

The 16 million acres of predicted corn, soy and wheat in the affected areas constitute an estimated 8 percent of the total predictive planting in the Farm Market iD database. While this is a small percentage, if your market share or overall revenue growth strategy requires you to gain significant business in these affected states, this is likely going to impact the results you see, and you may need to adjust your strategy as a result.
Communicating with growers in the affected areas

Given the challenges many farmers are facing, it's important to understand who has been affected, where they are located and how this changes their agribusiness needs. Farm Market iD's
Grower Profile
 (
http://www.farmmarketid.com/grower-profile/
) database can help you plan your response to the flooding crisis.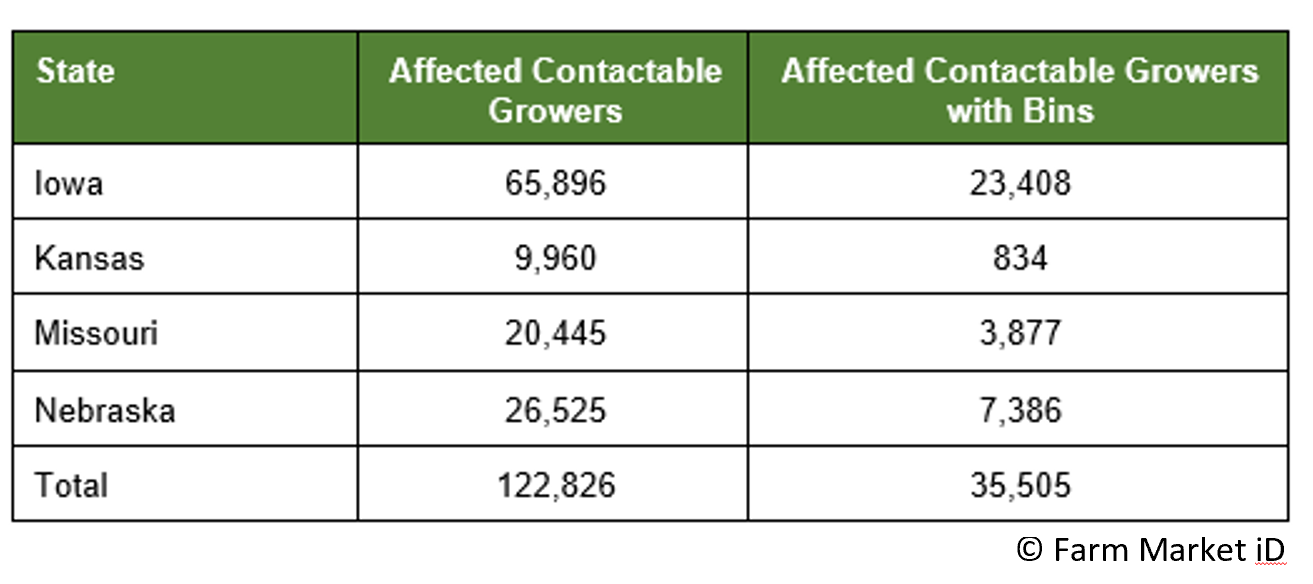 To learn more, visit our website at http://farmmarketid.com or go directly to http://blog.farmmarketid.com/blog/growers-impacted-midwest-floods-2019.

Resources for farmers and ranchers are available at https://www.usda.gov/topics/disaster/storms and https://www.farmaid.org/blog/resources-for-farmers-affected-by-the-midwest-floods/

About Farm Market iD
Farm Market iD is the leading provider of farm and grower data to inform and improve agribusiness strategy, marketing and sales efforts. Our database covers more than 2.4 million active operations – including $311 billion spent on seed, crop protection and other products – and is the only source of field-level data connected to owners and operators. This data powers agribusiness web applications, end-to-end marketing services, licensing and list rental and custom data solutions.

                                                          # # #