From Our Partner Caterpillar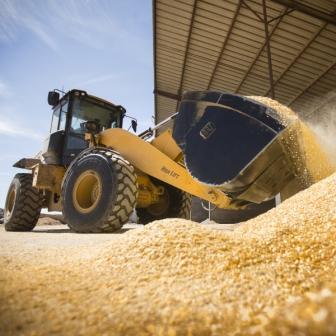 Utilizing Wheel Loader Technology on Today's Farms 

By Caterpillar Expert Ben Rice

Similar to our smartphones, computers and vehicles, machine technology is continually advancing. Many of the advancements on today's wheel loaders are proving to be especially helpful on the farm. However, it can be difficult to stay on top the latest features and technology while also managing all the moving parts of your operation. This blog is intended to highlight some of the top wheel loader advancements that can help you increase efficiency, save money and hopefully gain more time to tackle all the tasks that must get done each day.

Utilizing Kickouts and Payload Management Systems for Better Material Handling

Kickouts allow the operator to save lift and tilt positions and recall them with a simple motion of the joystick. Advanced wheel loaders allow this to be done inside the cab and provide smooth, predictable loader arm movement. 

A payload management system is a recent advancement available as an option on select wheel loaders that helps you precisely measure how much material is loading into your bucket — a tool that is especially helpful when mixing feed rations. These features work hand-in-hand when loading feed wagons, making the process much more simple and efficient and helping to eliminate wasted material.

Switch Tasks Easily with Quick Couplers

Wheel loaders are built to be used in several different applications. Whether it's using a bucket to load a feed wagon or off-loading hay bales with a hay fork, a variety of wheel loader tools are needed to complete everyday tasks on the farm. Some of today's loaders are equipped with advanced quick couplers. They allow you to switch tools in less than 30 seconds without having to exit the cab and also secure the attachment tighter to the machine to reduce component wear.

Machine Operating Software Advancements to Help You Manage Your Fleet

The display systems in wheel loader cabs serve as a vital tool not only for machine diagnostics but also for tracking fuel consumption. Advanced secondary display systems have a four quadrant screen that allows you to track the overall average fuel consumption of the machine, time until the fuel tank is empty, real-time calculations of the amount of fuel being used per hour, as well as use a resettable job clock to track fuel usage per task.

If there are multiple employees operating a single wheel loader on your farm, the latest coded start technology allows you to track fuel consumption and system diagnostics based on the operator codes. Coded start systems are also equipped with a master code, enabling owners to lock out certain features on the machine. For instance, performance mode can be deactivated on the machine, in which case operators must complete tasks in fuel-saving standard mode.

Emissions Technology: Maximize Uptime and Save Money

The latest, state-of-the-art emissions systems are not only reducing exhaust temperatures to minimize the risk of igniting flammable material, but are also self-managing to reduce operational expenses. These systems utilize a clean emissions module designed to require no operator interaction or disruption of work cycles, which increases machine uptime. It also cuts fuel consumption and maintenance expenses. 
Regeneration of the diesel particulate filter (DPF) occurs passively at a low temperature. Comparatively, some wheel loaders have to stop every 500 hours and be parked in a safe zone in order to regenerate due to the high temperatures created by the process — a task that takes about 45 minutes. 
The DPF is designed to last the life of the engine without needing to be serviced. This increases uptime and can save owners up to $10,000 throughout the life of the machine. Comparatively, the emissions systems on many wheel loaders require the DPF to be taken out and serviced by a dealer every 3,500 to 5,000 hours, which could cost about $2,500 each time.
With current Tier 4 emissions standards, if the valve lash gets out of adjustment, it can reduce the life of the DPF. Today's advanced machines are equipped with hydraulic valve lash systems that self-adjust, eliminating the need for regular service intervals. Comparatively, many manufacturers engineer their wheel loaders with a mechanical lift system, which requires servicing every 2,000 hours to get the valve lash adjusted.

While the learning curve on new machine technology can be an obstacle at first, the end result is worth it: saving money and getting the work done faster so you can have more time to spend with your family and friends.

For more information, VISIT THE CAT® RESOURCE CENTER.

"CAT, CATERPILLAR, their respective logos, "Caterpillar Yellow," the "Power Edge" trade dress as well as corporate and product identity used herein, are trademarks of Caterpillar and may not be used without permission." and "©2017 Caterpillar All Rights Reserved." 
---
Check Out Our Safety Archive
---
Show and Share

Show us how you are using construction equipment in your operation. Send us a photo!

Please forward this email to a friend or family member who could benefit from this safety information. They can also subscribe here.

Questions about how AAW is partnering with Caterpillar to benefit agriculture? Email pastpresident@americanagriwomen.org.