From Our Partner Caterpillar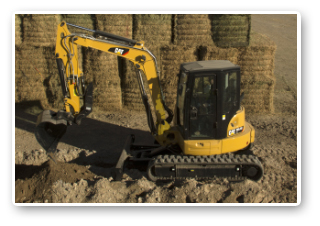 Mini-Excavators: A Growing Trend on Today's Farms

By Caterpillar Expert Ben Rice

Within the last year, the industry has seen almost 20 percent growth in the use of mini excavators on farms. This trend can be attributed to the sheer versatility of the machine. With a mini excavator, farmers and ranchers are able to execute multiple tasks with one machine versus renting or purchasing multiple machines.

Whether you are managing a dairy farm, row crop operation or cattle ranch, there is plenty of work to do outside of production. Mini excavators are proving to be especially helpful in maintenance-type tasks that need to be completed in order to keep agriculture operations running as effieciently as possible. 

READ THE FULL BLOG and learn about the tasks mini excavators are tackling on the farm.  

For machines specs, special offers and customer testimonials, VISIT THE CAT® RESOURCE CENTER. 


"CAT, CATERPILLAR, their respective logos, "Caterpillar Yellow," the "Power Edge" trade dress as well as corporate and product identity used herein, are trademarks of Caterpillar and may not be used without permission." and "©2016 Caterpillar All Rights Reserved." 
---
Check Out Our Safety Archive
---
Show and Share


Show us how you are using construction equipment in your operation. Send us a photo!

Please forward this email to a friend or family member who could benefit from this safety information. They can also subscribe here.

Questions about how AAW is partnering with Caterpillar to benefit agriculture? Email pastpresident@americanagriwomen.org.  

---
Editor's Note: This news brief is being sent to you via AgPR, 
www.AgPR.com
, the news release distribution service for agriculture. AgPR is an "Opt-In" service provided at no charge to journalists who report on agricultural topics. We encourage you to forward this info to other journalists you think will find it of interest. If you've received this from a peer and would like to receive future agricultural e-news briefs, please contact 
Warren E. Clark
 via e-mail at warren.e.clark@gmail.com or by phone at +1.847.836.5100. AgPR is a product of CCI Marketing, www.ccimarketing.com, a division of Clark Consulting International, Inc.
---
Copyright ©2021 Clark Consulting International, Inc. – CCI Marketing – AgNewsCenter.com
All Rights Reserved
For further information on AgNewsCenter contact: Warren E. Clark 1-847-836-5100